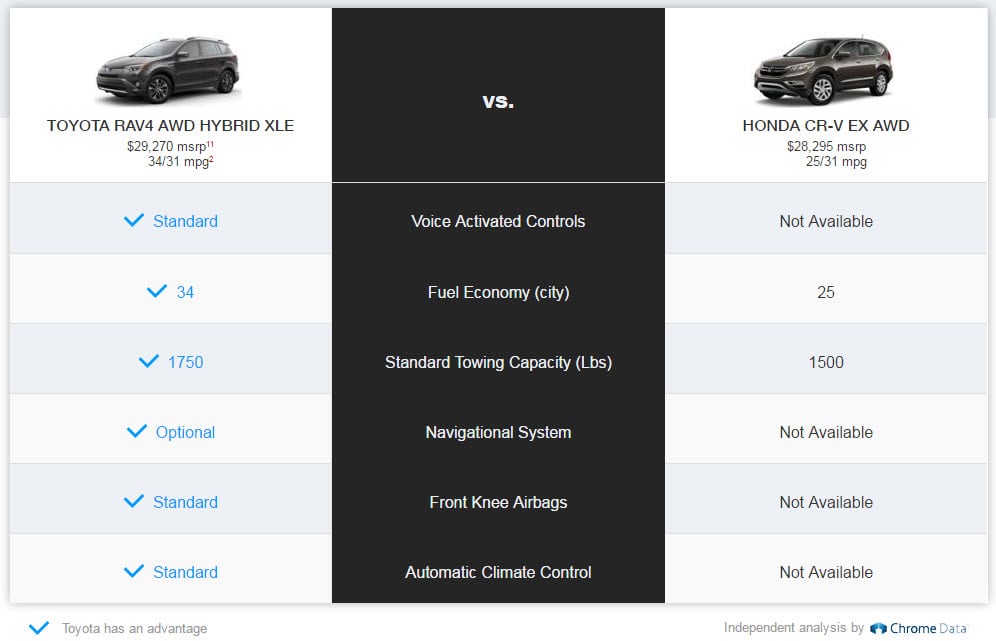 Summary
Toyota's RAV4 and Honda's CR-V are two of the most popular choices in the crossover SUV market. Both vehicles offer exceptional performance, safety, style and comfort. And as both are built with space and versatility in mind, they're top picks for families and adventure-seekers alike. As these two crossovers are similar in many respects, when comparing the RAV4 XLE Hybrid vs. CR-V EX AWD, it's best to analyze each of their features to determine which vehicle is the best fit.
More Stylish and Fun to Drive
RAV4 XLE Hybrid's athletic style can't be ignored. Both RAV4 XLE Hybrid and CR-V EX AWD feature heated, color-keyed outside mirrors, but only RAV4's incorporate stylish integrated turn signals. RAV4 XLE Hybrid can hustle - its proven Hybrid Synergy Drive®provides efficiency and driving thrills. And with its standard Electronic On-Demand AWD with intelligence (AWD-i), it helps provide additional traction when needed. Honda's Real-Time AWD does not come standard on the CR-V EX, but is available as part of a package. And for those bigger toys, RAV4 XLE Hybrid offers a standard towing capacity of 1750 pounds. The towing capacity of CR-V EX is 1500 pounds.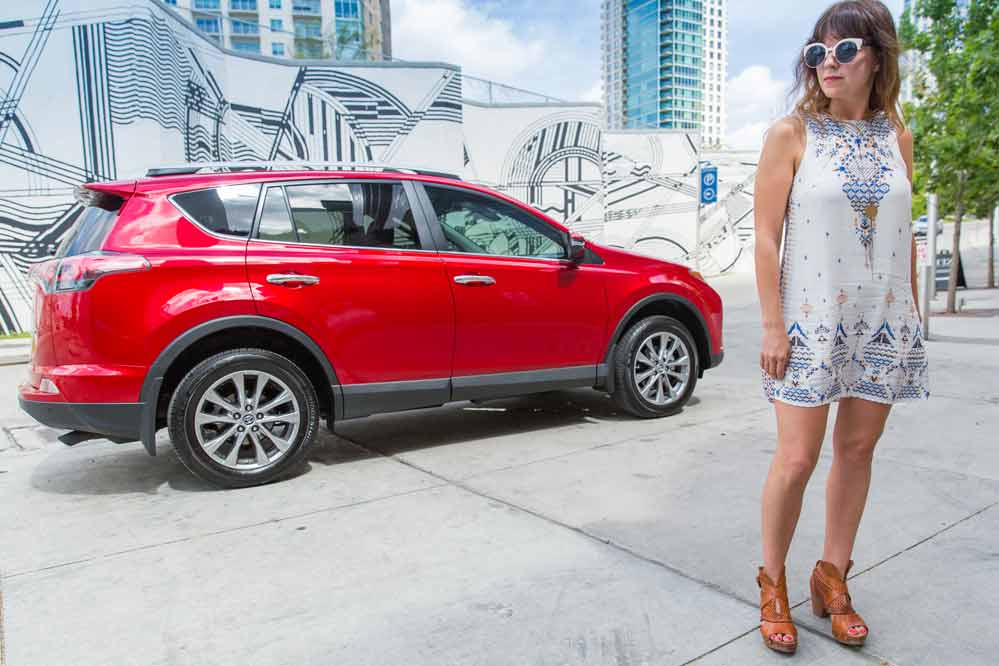 More Technology
When comparing the tech of the Toyota RAV4 XLE Hybrid vs. Honda CR-V EX AWD, it's easy to see why RAV4 Hybrid comes out on top. RAV4 XLE Hybrid offers plenty of standard tech, including a 6.1-in. touch-screen display and the advanced Entune™ Audio Plus system with Connected Navigation App. What's more, RAV4 XLE Hybrid comes with a colorful 4.2-in. TFT Multi-Information Display, which helps provide more information than the smaller, single-color screen found in the CR-V. RAV4 XLE Hybrid even comes standard with advanced voice recognition technology -a feature not even found on CR-V EX.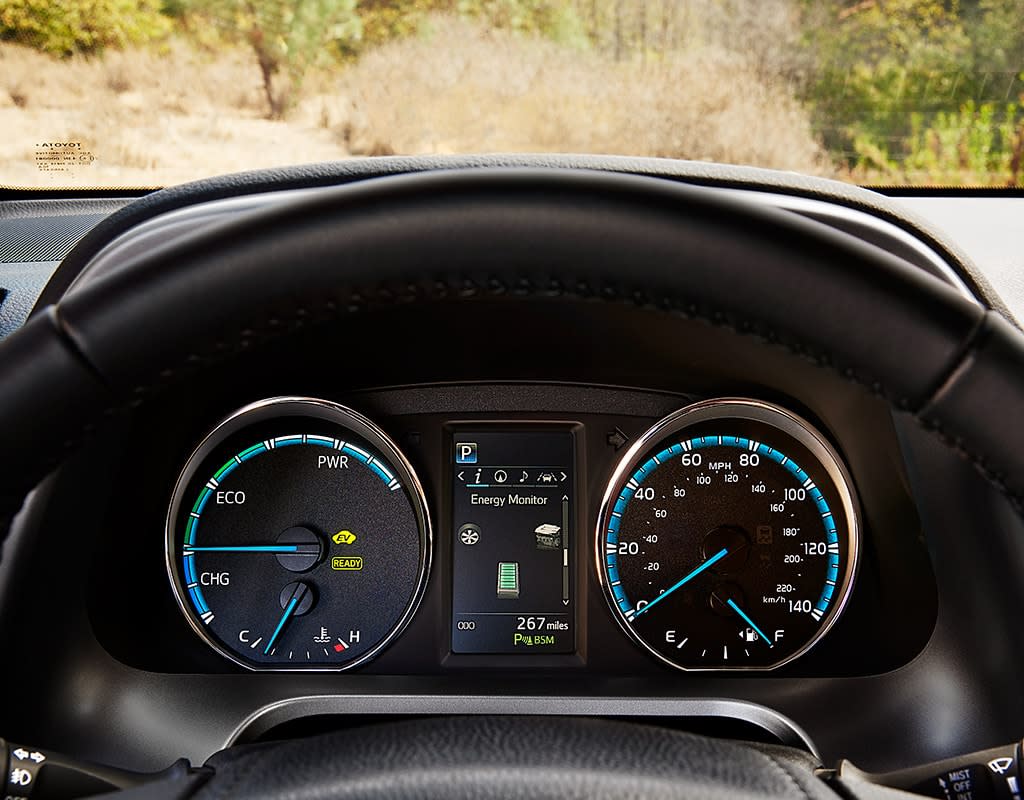 Peace of Mind
The MSRPs of the Toyota RAV4 XLE Hybrid and Honda CR-V EX AWD are pretty evenly matched. But RAV4 Hybrid brings added value by giving you more comfort and peace of mind for the long haul. Only RAV4 XLE Hybrid has standard dual zone automatic climate control. To get a similar feature on the Honda, you would have to select the more expensive EX-L trim. RAV4 also comes with ToyotaCare, which includes a 2-year, 25,000-mile factory scheduled maintenance plan and roadside assistance for 2 years. Honda doesn't offer a comparable program for any of its vehicles, including the CR-V. RAV4 Hybrid also comes with eight standard airbags. CR-V offers six standard airbags.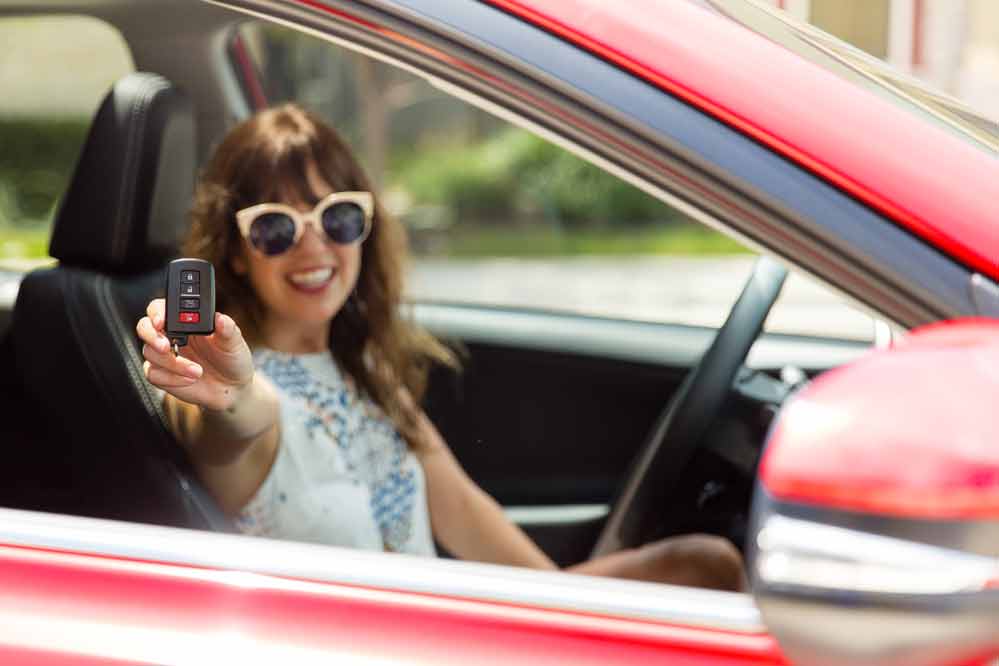 More Capability
When comparing the capability of the Toyota RAV4 Hybrid vs. Honda CR-V AWD EX, it's RAV4 Hybrid that's the clear winner. Only RAV4 XLE Hybrid offers a standard height-adjustable power liftgate, making it easier to load and unload your favorite stuff. Also available only on RAV4 XLE Hybrid is the intelligent AWD-i system to help give you more low-speed traction and control on slippery surfaces. And the proof is in the performance. Renowned testing center AMCI Testing certifies that the 2016 RAV4 Hybrid XLE offers Better Overall Active Safety Performance on Snow and Ice. Can't say that about CR-V.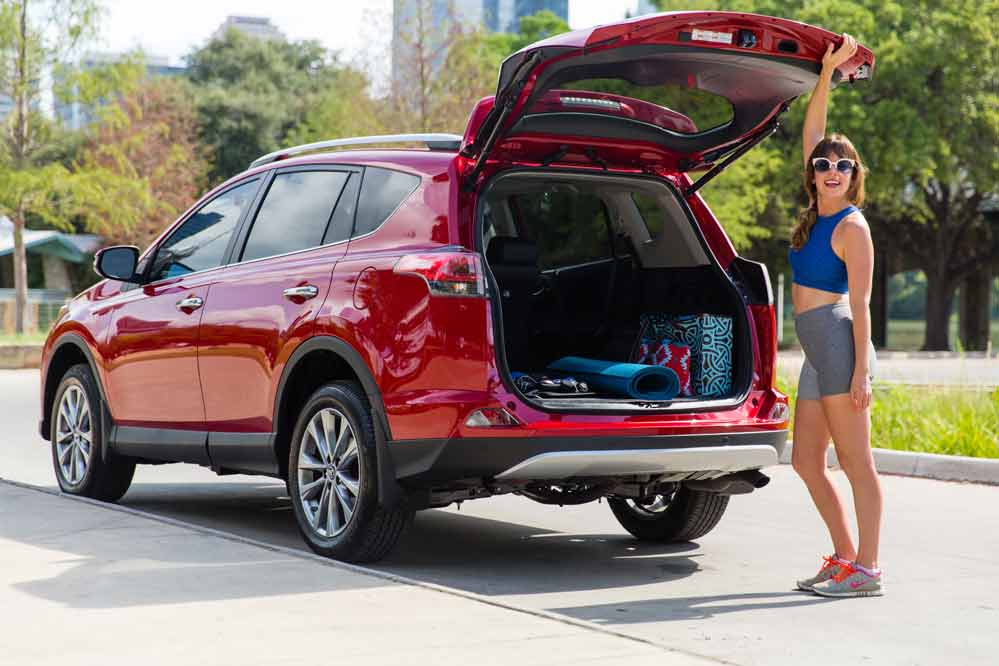 Sales Hours
(512)-270-5055
| | |
| --- | --- |
| Monday | 9:00 am - 9:00 pm |
| Tuesday | 9:00 am - 9:00 pm |
| Wednesday | 9:00 am - 9:00 pm |
| Thursday | 9:00 am - 9:00 pm |
| Friday | 9:00 am - 9:00 pm |
| Saturday | 9:00 am - 8:00 pm |
| Sunday | Closed |
Service Hours
(512)-270-5056
| | |
| --- | --- |
| Monday | 7:00 am - 7:00 pm |
| Tuesday | 7:00 am - 7:00 pm |
| Wednesday | 7:00 am - 7:00 pm |
| Thursday | 7:00 am - 7:00 pm |
| Friday | 7:00 am - 7:00 pm |
| Saturday | 7:00 am - 5:00 pm |
| Sunday | Closed |
Parts Hours
(512)-270-5057
| | |
| --- | --- |
| Monday | 7:00 am - 7:00 pm |
| Tuesday | 7:00 am - 7:00 pm |
| Wednesday | 7:00 am - 7:00 pm |
| Thursday | 7:00 am - 7:00 pm |
| Friday | 7:00 am - 7:00 pm |
| Saturday | 7:00 am - 5:00 pm |
| Sunday | Closed |
Body Shop Hours
(512) 270-5058
| | |
| --- | --- |
| Monday | 8:00 am - 5:30 pm |
| Tuesday | 8:00 am - 5:30 pm |
| Wednesday | 8:00 am - 5:30 pm |
| Thursday | 8:00 am - 5:30 pm |
| Friday | 8:00 am - 5:30 pm |
| Saturday | 8:00 am - 12:00 pm |
| Sunday | Closed |