Did Somebody Say
Lower Monthly Payments?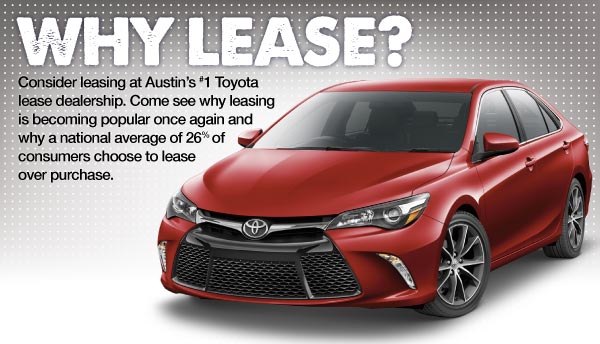 Why are 26% of consumers choosing to lease over purchase?
"It is not a mystery why leasing is so popular again, and why it isn't just for luxury cars anymore; it's because the average monthly payment for many ordinary cars is about $100 per month cheaper."
-Forbes 
* Lease arrangements usually involve a 15,000 mile-per-year cap and charge for extra miles. If you drive very little, you may be a good candidate for a lease. 
*When you negotiate a 24 to 36 month lease, you can be sure you'll always be driving a new Toyota. 
*Although you need to maintain and repair your leased vehicle just as you would an owned vehicle, Toyota Care covers 24 months or 25,000 miles (whichever comes first) of complimentary scheduled maintenance. 
*Typically you lease a vehicle for 2 to 3 years, this means that the car is normally under factory warranty during your time with it. 
*Many people prefer to drive a vehicle that is priced above their means and leasing provides the solution. 
*If you don't mind not owning the car, you are free to enjoy the benefits of leasing like low monthly payments and a low down payment. 
*If you own a business, and you use your Toyota for business, check with your tax advisor. You may be able to deduct your auto expenses, including your monthly lease payments.
*If the company you work for gives you a monthly car allowance, you may want to lease since you'll be able to drive a nicer car for a lower monthly payment. 
What happens when my lease ends?
1) Turn in your lease Toyota at Charles Maund Toyota. 
2) Trade in your lease. The value of your low mileage, well maintained, Toyota will be applied towards a new Toyota lease or purchase. 
3) Choose to buy and keep paying towards the ownership of your current Toyota. 
"This reflects the improving economy, including expanding credit markets and more confident consumers." - Edmunds.com